Shahid Afridi Biography
Sahibzada Mohammad Shahid Khan Afridi was born on 1 March 1980 in Khyber Agency of the Federally Administered Tribal Areas, Pakistan, popularly known as Shahid Afridi, is a Pakistani cricketer and current One Day International (ODI) and Twenty20 captain of the Pakistani national team in the international circuit. He made his ODI debut on 2 October 1996 against Kenya and his Test debut on 22 October 1998 against Australia.
Afridi is from the Afridi tribe of the Khyber Agency in the Federally Administered Tribal Areas and hails from a Pashtun family. He is married and has two daughters, Aqsa and Ansha.
He is known for his aggressive batting style, and holds the record for the fastest ODI century which he made in his first international innings, as well as scoring 32 runs in a single over, the second highest scoring over ever in an ODI. He also holds the distinction of having hit the most number of sixes in the history of ODI cricket. Afridi considers himself a better bowler than batsman, and has taken 48 Test wickets and over 300 in ODIs. Currently Afridi is the leading wicket taker in the Twenty20 format taking 53 wickets from 41 matches.
In June 2009 Afridi took over the Twenty20 captaincy from Younus Khan, and was later appointed ODI captain for the 2010 Asia Cup. In his first match as ODI captain against Sri Lanka he scored a century however Pakistan still lost by 16 runs. He then also took over the Test captaincy but resigned after one match in charge citing lack of form and ability to play Test cricket; at the same time he announced his retirement from Tests. He retained the captaincy in limited-overs form of the game and led the team in the 2011 World Cup.
His general style of batting is very aggressive and attack oriented and has earned him the nickname "Boom Boom Afridi". Moreover, out of the six fastest ODI centuries of all time, Afridi has produced three of them. As of 27 February 2011, he has an ODI strike rate of 113.83 runs per 100 balls, the third highest in the game's history. This attitude has been transferred to Test cricket as well, with Afridi scoring at a relatively high strike rate of 86.13. He has an approach to batting that can change the tempo of a game and inspire the mood of an audience, as shown when a mass exodus of spectators occurred in Pakistan in late 2005 following his dismissal from the crease.
Having started as a fast bowler, Afridi decided to start bowling spin after someone told him he was throwing. He modelled himself on Pakistan leg-spinner Abdul Qadir. Afridi began his career as primarily a bowler, however after scoring the fastest century in his maiden ODI innings more was expected of him with the bat. He considers himself a better bowler than batsman. While he is renowned for his aggressive batting, he is also a handy leg-spinner capable of producing a good mix of wicket taking balls.
He has over 300 International wickets, most of which are from the ODI format. While his stock ball is the leg break, his armoury also includes the conventional off break and a 'quicker one' which he can deliver in the style of a medium-pacer. He bowls at a high speed for a spinner, resulting in lesser turn, and relying more on variations in speed. He occasionally sends down a bouncer to a batsman, which is very rare for a spin bowler.
Shahid Afridi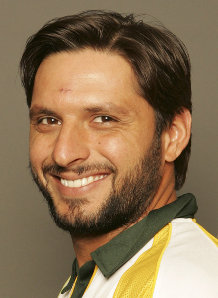 Shahid Afridi
Shahid Afridi
Shahid Afridi
Shahid Afridi
Shahid Afridi
Shahid Afridi
Shahid Afridi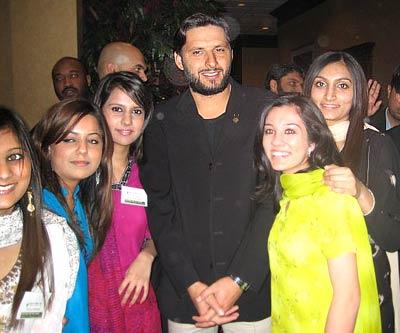 Shahid Afridi
Shahid Afridi